01-02/09/21 – Skills4Scientists: Posters & Careers Symposium
1st September 2021 @ 10:00 am

-

2nd September 2021 @ 5:00 pm

Free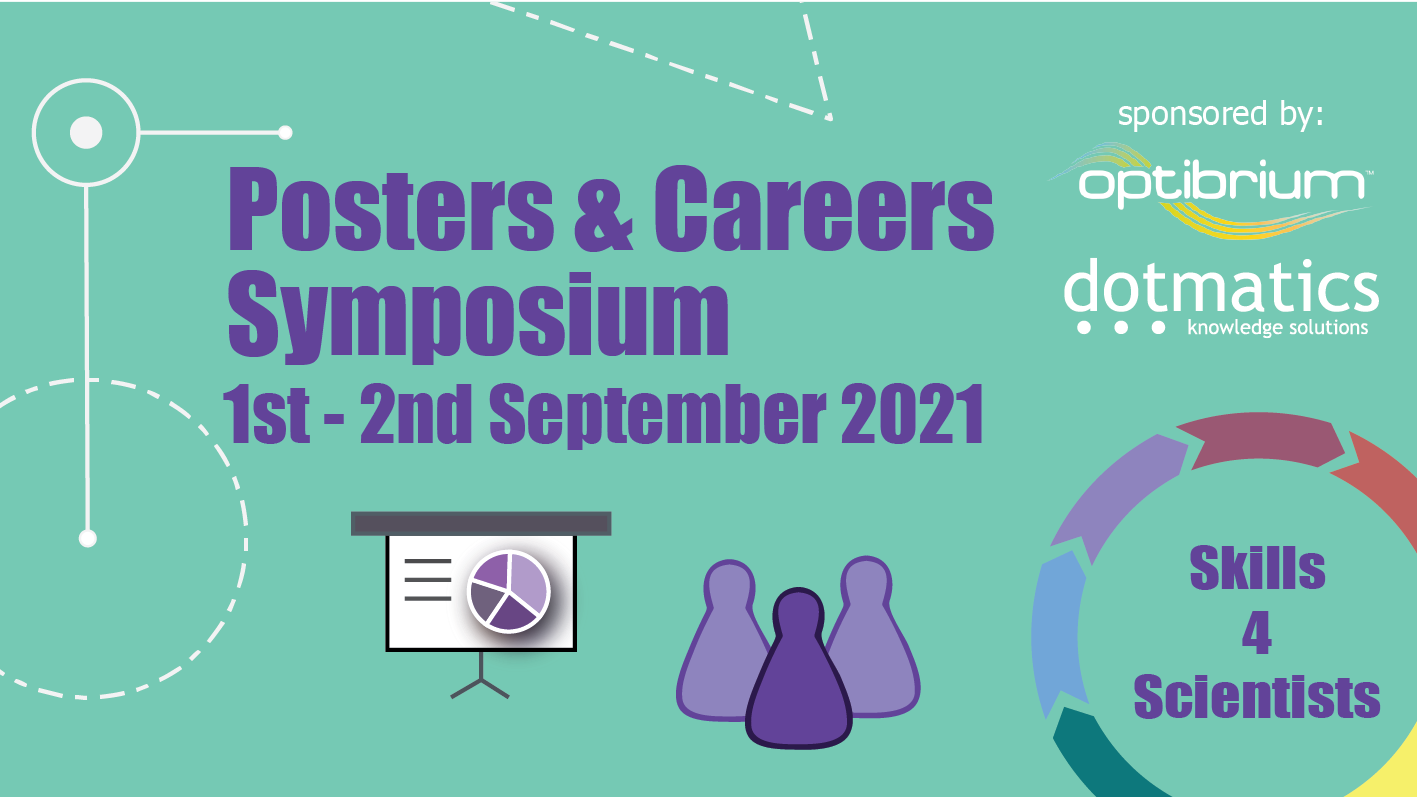 Eventbrite Link: s4s-symposium-010921.eventbrite.co.uk
Description: 
This event is the final event of the virtual Skills 4 Scientists series run by the Artificial Intelligence for Scientific Discovery Network+ (AI3SD) and the Physical Sciences Data-Science Service (PSDS). This event is a virtual 2 day poster symposia on the 1st and 2nd of September (between AI3SD, PSDS & RSC-CICAG) where attendees will be invited to present their research to a range of experts from industry and academia. A number of companies have also been invited to present on the opportunities that they have to offer graduates and PhD students. 
Who is this event for?
This series of virtual events is primarily aimed at late stage undergraduate or early stage postgraduate students who are studying a physical sciences subject. However, it is open to any attendees who wish to join if the subject matter is of interest to you! Please note though that many of the company talks and posters will be based around chemistry / physical sciences subject matter.
Agenda:
This event will run approximately from 10:00-17:00 on both days.
There will be short talks from the following organisations about their different career opportunities: AstraZeneca, Avco Systems, CCDC, CAS, CCDC, DeepMatter, Dotmatics, EPSRC, GSK, Optibrium, Royal Society of Chemistry and Sense about Science, and a talk about why to apply for PhD opportunities in the Physical Sciences.
There will be poster sessions for all of the submitted posters to be presented.
There will also be speed networking sessions held each afternoon for attendees to talk to different companies in more detail.
Submit a Poster:
If you are an undergraduate or postgraduate student or ECR working on the intersection of AI and Chemistry we would like to offer you the opportunity to present your research at this event via a poster and lightning talk.
If you wish to submit a poster please fill in our Poster form by midnight on the 18th August. We will let you know if your application is successful within a few working days, and the final deadline for the full poster to be sent to Samantha Kanza (s.kanza@soton.ac.uk) is the 25th August. The poster template can be found here, and poster guidance here.
Companies:
The companies taking part in this event can be found on our Companies Page.
If you are a company working in related areas to AI3SD and wish to give a talk about the opportunities your company has to offer graduates and PhD students as part of this symposium please contact Dr Samantha Kanza (s.kanza@soton.ac.uk).
Sponsorship:
£200 – logos on all event materials (rolling slides, webpages, flyers, YouTube splashscreens, logos on posters). If you wish to sponsor this event please contact Dr Samantha Kanza (s.kanza@soton.ac.uk).
This event has been generously sponsored by Optibrium and Dotmatics. Further details about our sponsor can be found on our Sponsors Page.