21/07/21 – Skills4Scientists: Version Control & LaTeX
21st July 2021 @ 2:00 pm

-

5:00 pm

Free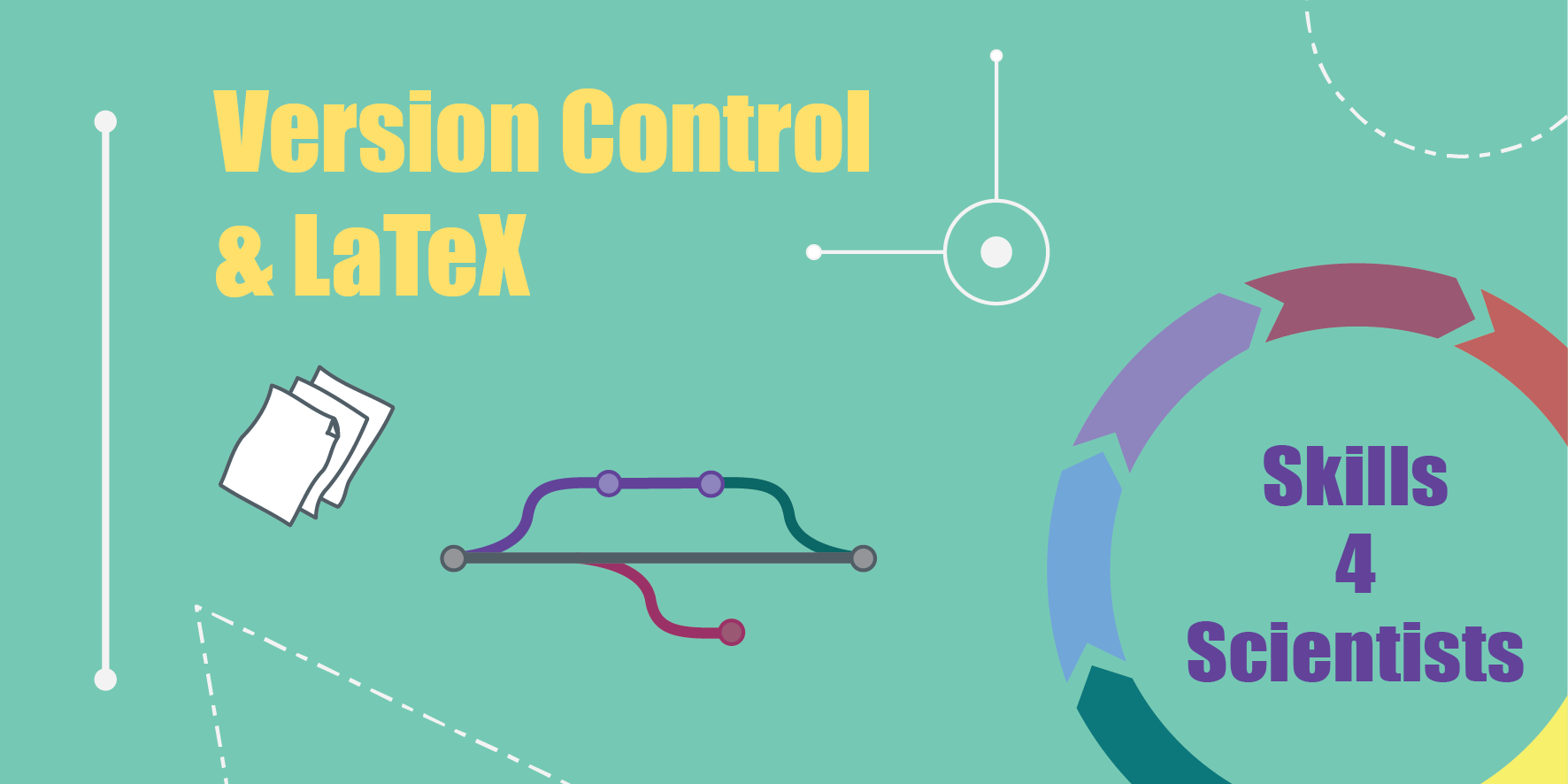 Eventbrite Link: s4s-versioncontrol-210721.eventbrite.co.uk
Description:
This event is part of the virtual Skills 4 Scientists series run by the Artificial Intelligence for Scientific Discovery Network+ (AI3SD) and the Physical Sciences Data-Science Service (PSDS). This session will focus on teaching the basics of LaTeX and version control.
Who is this event for?
This series of virtual events is primarily aimed at late stage undergraduate or early stage postgraduate students who are studying a physical sciences subject. However, it is open to any attendees who wish to join if the subject matter is of interest to you! Please note though that many of the examples will be based around chemistry / physical sciences subject matter.
Pre-requisites:
This course requires installation of git and TeX in advance of the event. Our Pre-requisites document with these installation instructions can be downloaded from here.
We have prepared some LaTeX resources and examples for you which can be downloaded from here, or cloned from GitHub here.
Agenda:
2:00-2:10: Registration & Coffee

2:10-2:20: Welcome + Logistics

2:20-2

:50: Introduction to LaTeX

2:50-3:20: Introduction to GitHub

3:20-3:45: Break

3:45-4:15: Practical GitHub & LaTeX Demonstration

4:15-4:45: Overleaf & LaTeX

4:45-5:00: Wrap Up
Speaker Bios:
Samuel Munday is a Research Assistant at the University of Southampton. He is currently part of the ICURe programme, and his research focus is in the digital economy space, interviewing and working with industry to assess the need for systems that can automatically curate and contextualise information from paper records. Samuel graduated from the University of Southampton in 2018 with an MChem in Chemistry and Maths, and prior to undertaking his recent position, he worked as a Research Technician at the University, and was involved with a variety of different projects. He led the development and implementation of a machine learning platform for the polymeric materials sector, aiding them in bringing new products to market faster. He has also developed and helped deliver a Python programming course for undergraduate Chemists as well as being involved in assessing the ethical implications of implementing AI and data sharing across the food supply chain.
Dr Samantha Kanza is an Enterprise Fellow at the University of Southampton. She completed her MEng in Computer Science at the University of Southampton and then worked for BAE Systems Applied Intelligence for a year before returning to do an iPhD in Web Science (in Computer Science and Chemistry), which focused on Semantic Tagging of Scientific Documents and Electronic Lab Notebooks. She was awarded her PhD in April 2018. Samantha works in the interdisciplinary research area of applying computer science techniques to the scientific domain, specifically through the use of semantic web technologies and artificial intelligence. Her research includes looking at electronic lab notebooks and smart laboratories, to improve the digitization and knowledge management of the scientific record using semantic web technologies; and using IoT devices in the laboratory. She has also worked on a number of interdisciplinary Semantic Web projects in different domains, including agriculture, chemistry and the social sciences.
Dr Nicola Knight is an Enterprise Research Fellow at the University of Southampton working on the Physical Sciences Data-Science Service (PSDS). She completed her Masters of Chemistry (MChem) at the University of Southampton previously before undertaking a PhD in Chemistry under the supervision of Professor Jeremy Frey. Her PhD focused on the interface between Chemistry and Computing with research in chemical modelling, remote experiments and the implementation of IoT technology in scientific research. Nicola's current research interests are in the use of computing in scientific labs and notetaking with particular interest in IoT technologies and streamlining the research process.