18/08/21 – Skills4Scientists: Ethical Research
18th August 2021 @ 2:00 pm

-

5:00 pm

Free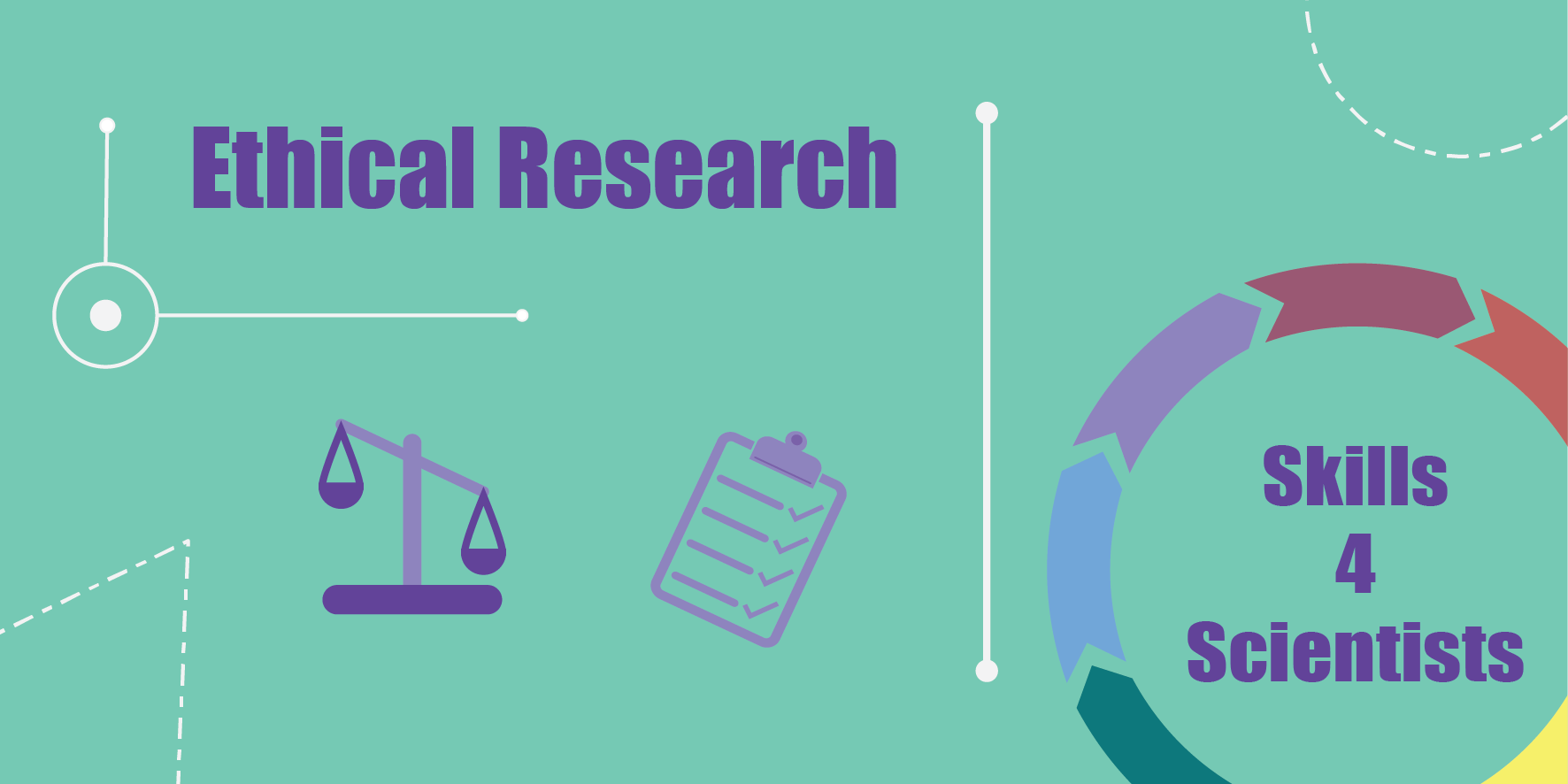 Eventbrite Link: s4s-ethics-180821.eventbrite.co.uk
Description
This event is part of the virtual Skills 4 Scientists series run by the Artificial Intelligence for Scientific Discovery Network+ (AI3SD) and the Physical Sciences Data-Science Service (PSDS). This session will focus on several areas of ethical research including discussions on why ethics is important and how to write an ethics application. We will also be including an interactive breakout session using a set of Moral IT cards developed by researchers at the University of Nottingham: https://lachlansresearch.com/the-moral-it-legal-it-decks/
Who is this event for?
This series of virtual events is primarily aimed at late stage undergraduate or early stage postgraduate students who are studying a physical sciences subject. However, it is open to any attendees who wish to join if the subject matter is of interest to you! Please note though that many of the examples will be based around chemistry / physical sciences subject matter.
Pre-requisites
This course has no pre-requisites
Agenda
2:00-2:10: Welcome, Registration & Logistics
2:10-2:30: Intro to ethics – Dr Peter Craigon
2:30-3:05: Writing an ethics application – Dr Samantha Kanza
3:05-3:20: Intro to Moral IT Cards – Dr Peter Craigon
3:20-3:40: Break
3:40-4:50: Interactive Activity – Moral IT Cards
4:50-5:00: Wrap Up
Speaker Bios:
Dr Peter Craigon

is a Research Fellow in Ethics, Legislation and Engagement in Food and Agricultural Innovation within the Future Food Beacon of Excellence at the University of Nottingham. He is working with Professor Kate Millar and Professor Richard Hyde on developing tools to encourage ethical engagement and regulatory responsiveness for researchers working in food and agricultural innovation and beyond. He previously worked at the Horizon Digital Economy Research Institute at the University of Nottingham developing a tool to enable ethical design of IT based technologies and also at the University of Nottingham School of Veterinary Medicine and Science researching dog behaviour. Alongside this he completed a multidisciplinary PhD at the Horizon Centre for Doctoral Training also at the University of Nottingham exploring how social maps create knowledge about place.

Dr Samantha Kanza is an Enterprise Fellow at the University of Southampton. She completed her MEng in Computer Science at the University of Southampton and then worked for BAE Systems Applied Intelligence for a year before returning to do an iPhD in Web Science (in Computer Science and Chemistry), which focused on Semantic Tagging of Scientific Documents and Electronic Lab Notebooks. She was awarded her PhD in April 2018. Samantha works in the interdisciplinary research area of applying computer science techniques to the scientific domain, specifically through the use of semantic web technologies and artificial intelligence. Her research includes looking at electronic lab notebooks and smart laboratories, to improve the digitization and knowledge management of the scientific record using semantic web technologies; and using IoT devices in the laboratory. She has also worked on a number of interdisciplinary Semantic Web projects in different domains, including agriculture, chemistry and the social sciences.
The Moral-IT Cards:
The Moral-IT cards, developed by Dr Lachlan Urquhart (now at Edinburgh) and Dr Peter Craigon, at the Horizon Digital Economy Research Institute at the University of Nottingham[1], are used as a tool to prompt reflection on the legal, ethical, technical and social implications of new information technologies. In this interactive session we will be using the Moral-IT cards to prompt discussion and thought on the ethical implications that a user's research can have, and how they can consider these angles in their experiment and research design. The session will be introduced by Dr Peter Craigon from the University of Nottingham and discussion groups will be facilitated by members of our organising team. The Moral-IT cards are licensed under a Creative Commons Attribution-NonCommercial-ShareAlike 4.0 International License and more information can be found on this website: https://lachlansresearch.com/the-moral-it-legal-it-decks/
[1] Urquhart, L., Craigon, P., 2020. The Moral-IT Deck: A Tool for Ethics by Design. arXiv:2007.07514 [cs].